Dieting is NOT the Solution for 100 Million Americans Eating 4,200+ Extra Calories per Week Due to COVID19
New Nationwide Survey Reveals 100 Million Americans May Be Gaining Up to Five Pounds per Month Due to the Pandemic – But Attempting to Diet Them Off May Only Make Things Worse
(Survey authored and supervised by Dr. Glenn Livingston, executed by Google Consumer Surveys)

Dateline April 2nd, 2021 – Pompano Beach, FL:  In a national survey by Glenn Livingston, Ph.D., author of the global bestseller "Never Binge Again", 1,500+ adults were asked about their COVID-19 eating habits. 39.7%—representing 100 million Americans—said they'd been overeating more since this all began.  ("Covid Overeaters")
Covid19 Effects on Eating Habits (US Adults)
I am overeating less frequently now
15.5%
The pandemic has not changed my eating
44.8%
I am overeating more frequently now
20.4%
I am overeating a LOT more frequently now
11.1%
My overeating started during the pandemic
8.2%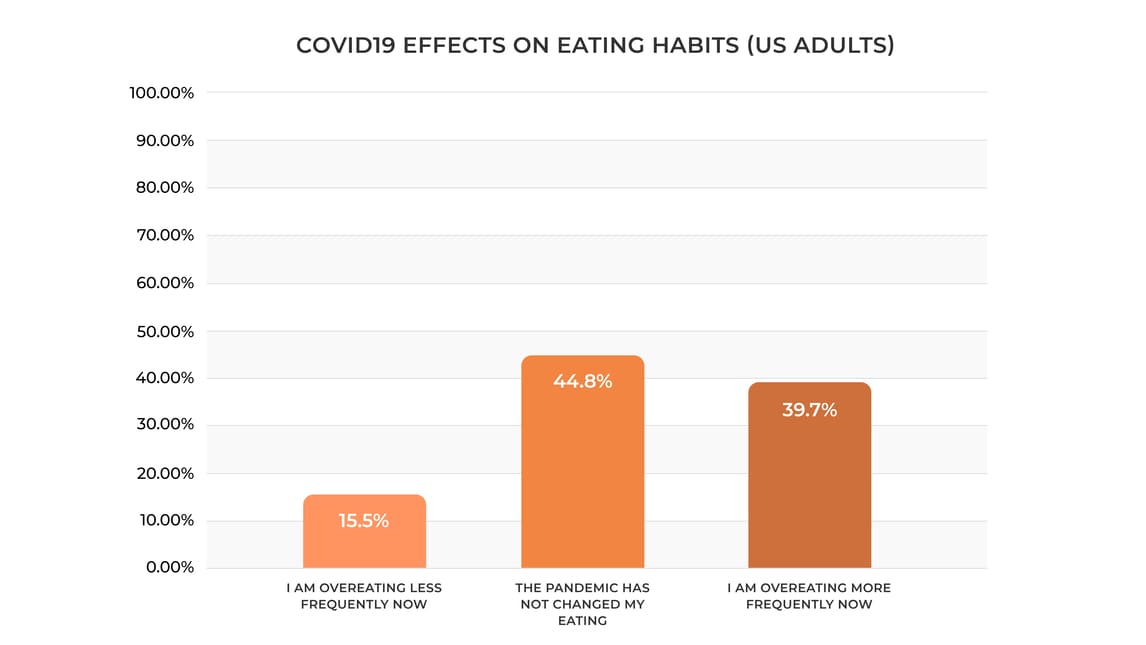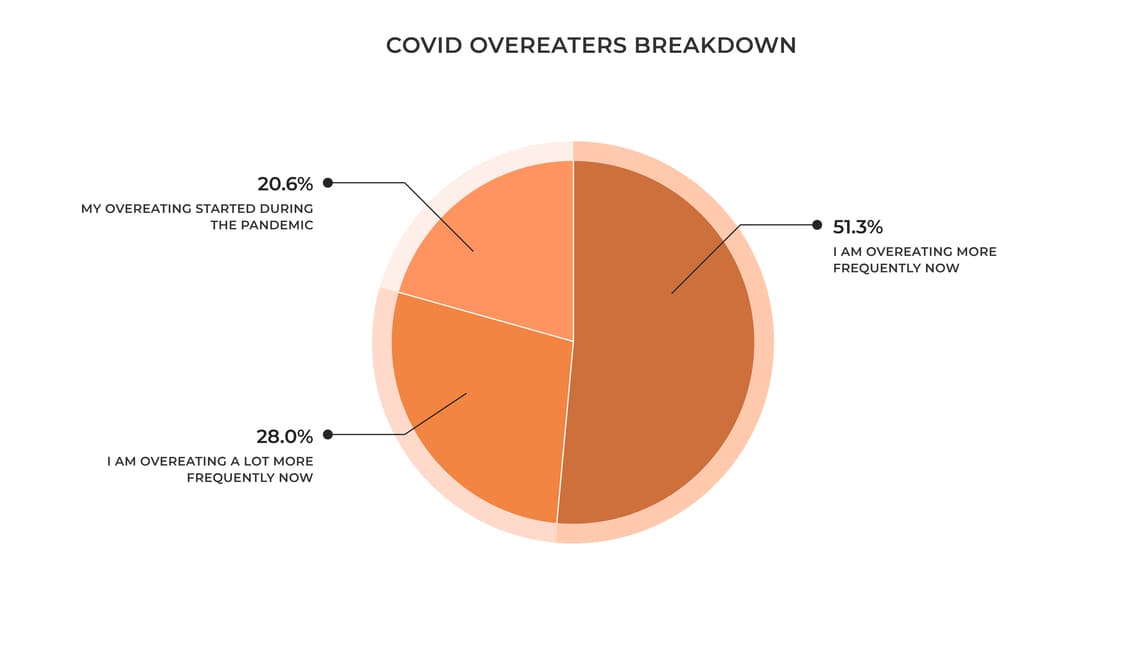 "Covid Overeaters average approximately 1,500 extra calories per episode x 2.8 episodes per week x 4.3 weeks per month = 18,060 extra calories per month =  enough to gain more than five pounds per month."
The table and chart below describe the average overeating episodes per week amongst the 39.8% of Americans indicating they are overeating more Since covid19 began:
Weekly Overeating Frequency
Less than one time per week
21.5%
Once per week
21.6%
2 to 3 times per week
26.2%
4 to 5 times per week
9.2%
Every day (or almost every day)
21.5%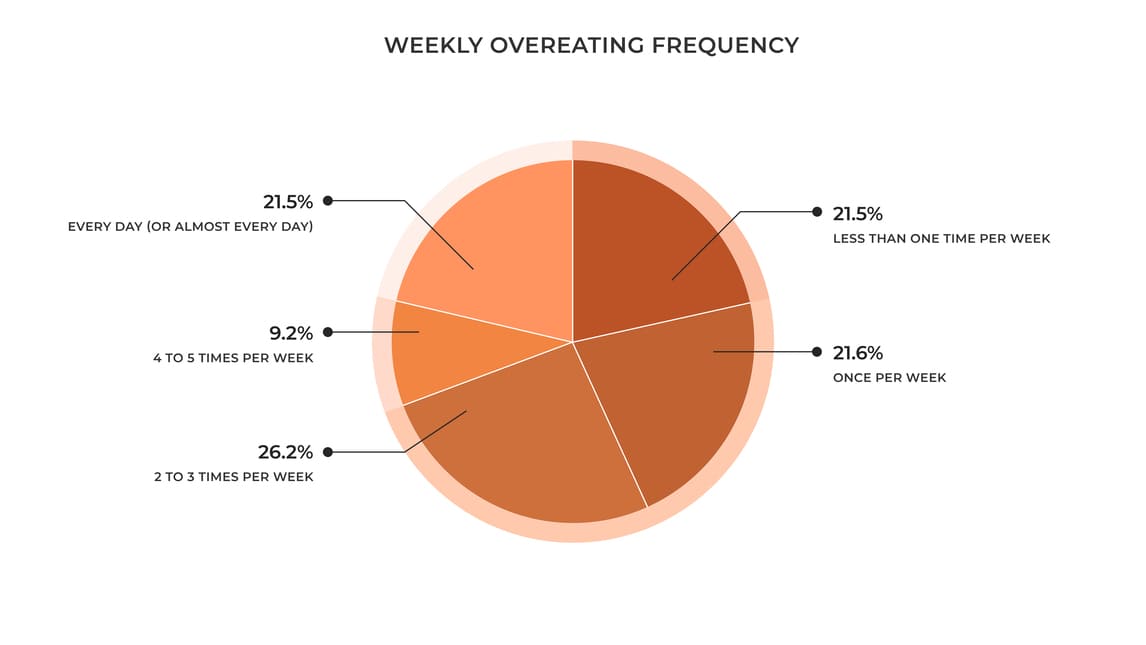 The table and chart below describe the average EXTRA calories consumed due to each overeating episode amongst the 39.8% of Americans indicating they are overeating more since Covid19 began:
Extra Calories Due to Each Overeating Episode
0 to 250 ADDITIONAL calories
10.7%
251 to 500 ADDITIONAL calories
17.3%
501 to 750 ADDITIONAL calories
21.5%
751 to 1,000 ADDITIONAL calories
14.3%
1,001 to 2,000 ADDITIONAL calories
14.6%
2,001 to 5,000 ADDITIONAL calories
8.7%
More than 5,000 ADDITIONAL calories
12.9%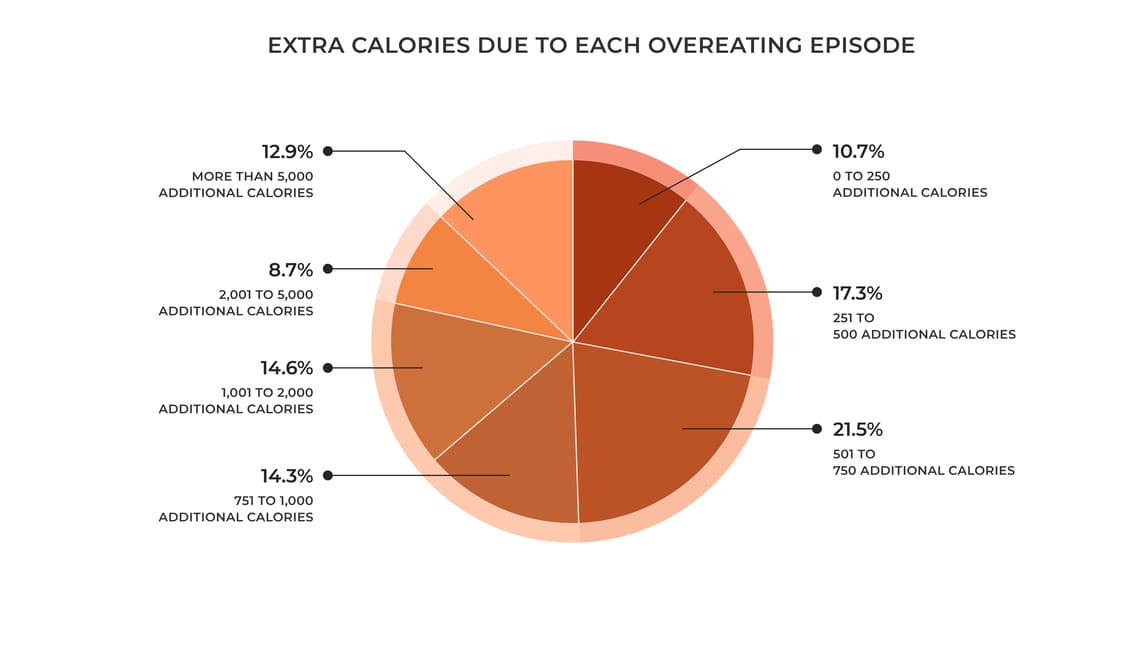 Worse yet, according to Dr. Livingston, the more frequently you overeat, the more calories you consume during each episode. 
Average Calories per Overeating Episode by Frequency of Episodes in Covid Overeaters
Overeating Frequency
Average Calories per Episode
Once per week
906
2 to 3 times per week
1104
4 to 5 times per week
1390
Every day (or almost every day)
2588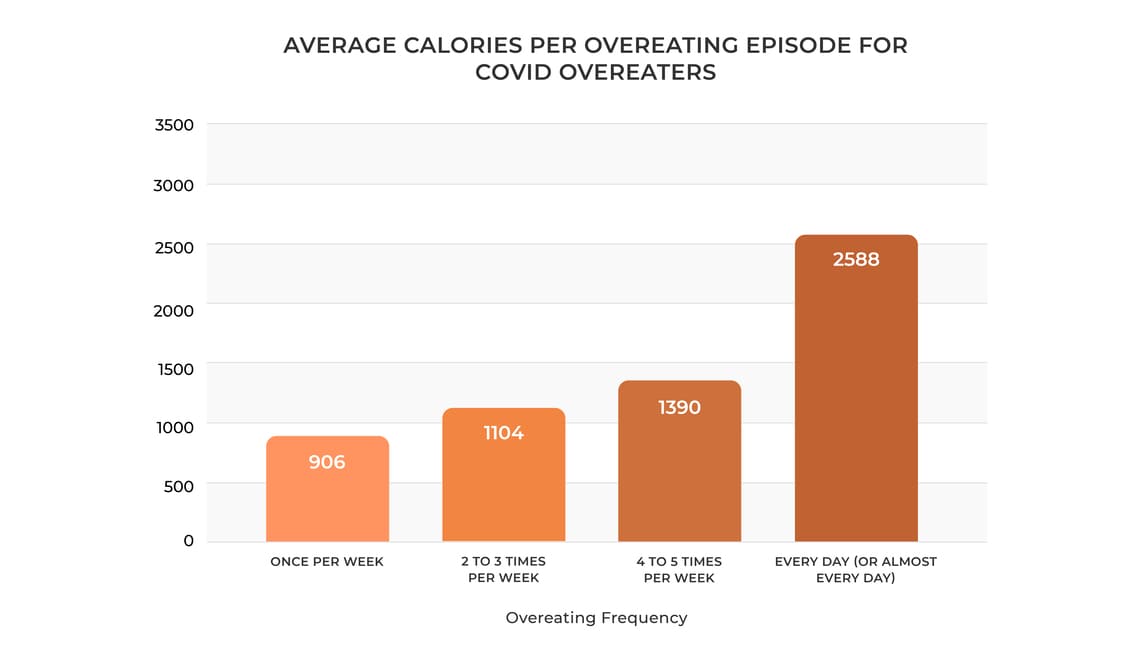 Percent Covid Overeaters Who Are Now Overweight or Obese by Frequency of Overeating Episodes
Overeating Frequency
Percent of Covid Overeaters Who Are Now Overweight or Obese
Once per week
24.0%
2 to 3 times per week
42.3%
4 to 5 times per week
54.5%
Every day (or almost every day)
74.2%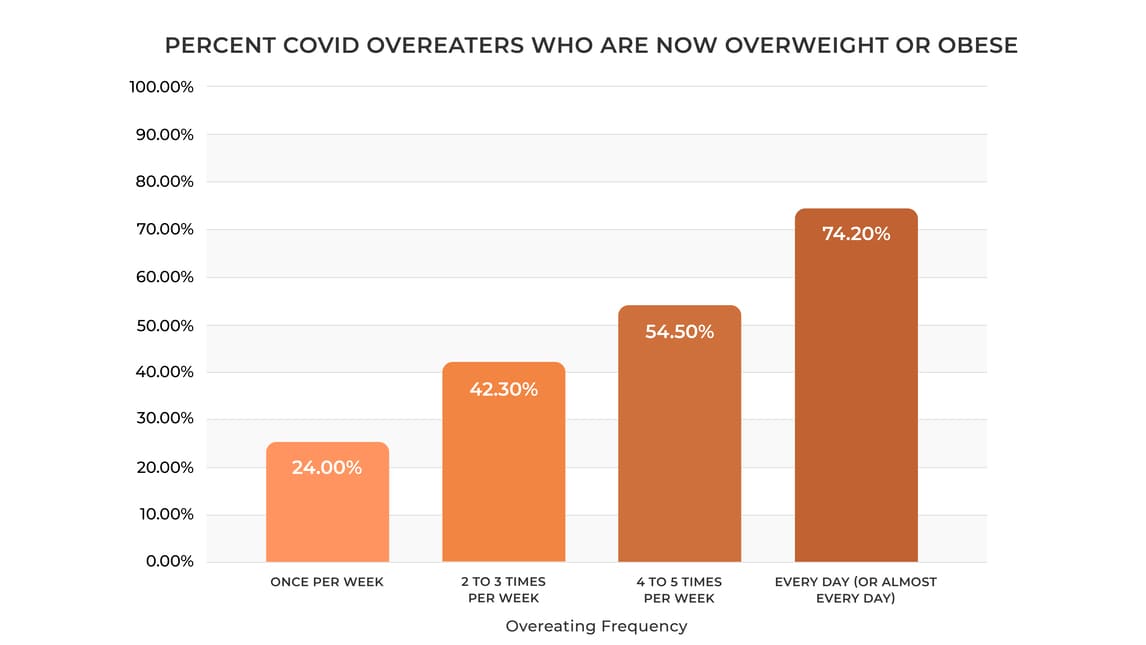 People Overeating 4x/Week or More
Another finding of the study not mentioned in the original release was the progressive nature of overeating. People who reported overeating 4x/week or more at this juncture were significantly worse off than people who overate less frequently on many measures. For example, approximately three times the percentage of very frequent overeaters (4x+ per week) were obese as compared to less frequent overeaters (3x per week or less). Moreover, frequent overeaters averaged 81% more daily calories than infrequent overeaters, and more than twice as many extra calories per overeating episode. They were also twice as likely to feel out of control—like they couldn't stop if they wanted to. Finally, they experienced 40% more negative emotions in relation to their overeating:
| | | |
| --- | --- | --- |
|   | People Who Overeat 3X/Week Or Less | People Who Overeat 4X/Week Or More |
| Percent Overweight or Obese | 22.7% | 66.6% |
| Daily Caloric Intake | 2,012 | 3,693 |
| Extra Calorie Intake per Overeating Episode | 890 | 1,870 |
| Percent Experiencing Negative Emotions After Overeating (Guilt, Shame, Disgust with Self, etc.) | 49.2% | 68.5% |
| Sneak Eating (Mostly or Always Overeats Alone) | 33.8% | 47.5% |
| Feels Like They're Out of Control with Their Eating – Couldn't Stop If They Tried | 9.3% | 21.6% |
People Who Just Started Overeating During the Pandemic
People who said they started overeating during the pandemic but would not characterize themselves as overeaters before only differed from other Covid19 Overeaters in their obesity rates and caloric intake.  Dr. Livingston says "it's especially critical to put out the Overeating Fire lit during the Covid pandemic before it progresses and more negative results accrue such as obesity and the compulsion to overeat more frequently."
| | | |
| --- | --- | --- |
|   | People Who Just Started To Overeat During Covid19 | Other Covid19 Overeaters |
| Percent Overweight or Obese | 23.7% | 32% |
| Daily Caloric Intake | 1,918 | 2,325 |
| Extra Calorie Intake per Overeating Episode | 712 | 1,325 |
| Percent Feeling Negative Emotions After Overeating (Guilt, Shame, Disgust with Self, etc.) | 66% | 66.5% |
| Sneak Eating (Mostly or Always Overeats Alone) | 48.5% | 42.4% |
| Feels Like They're Out of Control with Their Eating – Couldn't Stop If They Tried | 13.4% | 13.3% |
But Dr. Livingston Emphatically States That No Matter Where You Are on the Covid Overeating Continuum…Dieting Is NOT The Solution!
"Many are planning to fix the problem by dieting their weight off when this is all over. Unfortunately, using food to sooth trauma during the pandemic creates a strong link between emotions and overeating which may last long after COVID ends. Dieting after this experience can stress the individual and trigger the link, thereby creating worse (and more frequent) overeating episodes."
"To correct for Covid-19 overeating, don't diet! Instead, focus on severing the connection between traumatic emotions and eating. Working with over 1,000 binge-eating clients has taught me that even if you're bingeing every day, you can quickly re-train yourself to experience these negative emotions without the urge to overeat" says Dr. Livingston. To do this, he urges Covid Overeaters to implement external structure for a few months via the following five crucial strategies:
Eat (and Snack) by Design: To sever the link between emotions and overeating, shift from an "eat on whim" to an "eat and snack by design" structure. When does a meal start and when does it end?  How much time is required between meals?  A meal could be a defined number of calories, an eyeball measure (like "one fistful of protein, one fistful of starch, two fistfuls of vegetables, and one piece of fruit"), one plate of food no more than one inch high with no seconds allowed, etc.
Create Clear Boundaries Around Trigger Foods: If you're going to eat "comfort" food, exactly how much and when? "There's a big difference between saying 'I'm going to try to avoid eating too many potato chips' vs. 'I will only eat potato chips on weekends, and never more than one small bag per day.' The former has no objective boundaries and is therefore vulnerable to influence by the emotions running rampant in the pandemic. Plus, without boundaries one needs to make constant decisions about potato chips whenever the urge strikes—and that wears down your willpower."
Keep Your Kitchen Overstocked with Healthy Food: To combat feelings of food scarcity, keep your kitchen overstocked with easy to cook (and easy to eat) healthy foods. This prevents your primitive brain from firing emergency "we are going to starve" signals that may override your best thinking and dietary plans at the moment of temptation.
Make Regular, Daily Socialization Appointments and Turn Your Zoom Camera On: "In my practice, people who don't Zoom with their video on are having much more trouble with food" says Dr. Livingston. "That's because it's easier to fantasize you'll 'deal with the extra weight later' if nobody ever sees you."
Recognize It's Critical to Stop Covid-Induced Overeating Before It Progresses Further: "Overeating not only destabilizes your blood sugar, saps your energy, and causes all sorts of physical problems, it breaks your spirit. Then the cravings become stronger, and people feel progressively less capable of resisting. Eventually they feel hopeless and become truly addicted. It's therefore critical to change behavior as soon as one can, and not to wait for a declaration that the pandemic is officially over."
Wait until you've thoroughly severed the connection between emotional turmoil and eating before focusing on weight loss, which should become a lot easier and more natural at that time.

For more details check out this free guide from Dr. Livingston on dealing with overeating and binge eating habits.
Reasons for Pandemic Overeating
"Reasons for Covid-19 overeating include uncertainty about what will happen next, COVID deaths of friends and loved ones, lack of comfort from social contact, absence of structure from the work environment, no need to 'show up' or 'look good' anywhere, and irrational fears of food scarcity" according to Dr. Livingston.  (Permission to publish these quotes has been obtained from each person quoted.)
"In March 2020, 2 unrelated neighbors I knew well died and I had big binge. This started a binge/eat-correctly cycle that lasted about 11 months and resulted in a 40 pound gain. " - Amelia (retired), Florida
"I just started overeating to deal with the anxiety and the not knowing what would happen.  I think I was using food like an alcoholic uses alcohol.  Somehow I felt like my only escape was bread and chocolate!" - Erin, PA
"My company locked down and now work from home full time. It's been a full year of being home, not socializing with co-workers and friends. The food is always available." - Jeff, System Admin from NJ
"The isolation and the fear of this unknown monster that could take my life of the life of a family member. I found myself turning to food for comfort....and even sometimes thinking, "the hell with it. I'm going to eat whatever I want since I might die soon."  I definitely thought more about death, a shortened life span, and felt at continuous risk." - Barbara, Therapist from Washington
"I work in health care and it has been a very stressful time.  I often overeat to deal with my stress and to unwind when I get home.  I also haven't seen my son in sometime due to the quarantine in WA state.  And will feed my feelings." - Beth, MRI Tech from Washington
"Food insecurity during the pandemic has caused me to binge greatly when food is available. Stress and the unknown from the pandemic has caused an increase in my binging. Lack of coping (going to the gym, the spa, the mall) has caused an increase in my binging." - K, A business analyst from Colorado
"The sense of impending doom and lack of control (I work front lines in the medical field)." - Dominic an ER Physician from Texas
"Boredom, feeling trapped and lonely. Even through I've increased my activity (with my hands) being wheelchair bound makes it hard to move around. It's become easy to watch  TV and snack all evening instead of interacting with others in a non-eating environment." - Lela from Indiana
"I was at home a lot more...did not go out much. A lot of places I used to go to were closed. I was worried for my wife. She's a front line health care worker caring for COVID patients. She saw many people die I was fearful, anxious, and also bored at times." - Will, Banker from California
"For me, three major factors have contributed to going off the rails this past year. Staying in recovery from Binge Eating Disorder requires keeping to a schedule, for one thing and it requires that I not have endless time alone  It also requires me to keep stress levels at a minimum. I am retired and live alone, so for an entire year now it's been a perfect storm for binge eating." - Mary, retired massage therapist from California
"I had 3 miscarriages in a year and was incredibly isolated. I went from teaching in person to being 100% asynchronous and seeing no one but my husband. So, yeah. It was pretty much cry in bed, grade papers in bed, and eat in bed for a year." - Megan, a colleague professor from New York
"Simply stated, I became bored.  I had been swimming and doing more projects before Covid.  My contract work was lost for a time, so my projects came to a halt due to money issues; and the swimming pool at the clubhouse where I rent was closed so I had more time on my hands." - Sheri, Substitute teacher from California
"I am a stress and boredom binger. My family hasn't been able to go and do the things we enjoy doing especially over the winter. I filled that time with food. It gave me something to do and comforted the stress I felt." - Holly, Director of Human Resources from Michigan
"Working from home was a stressful situation with the family of six home all day. There was easy access to high calorie foods in the pantry that I didnt have access to at work. I also stopped going to the gym due to the lock downs and covid precautions. So the weight just piled on. The more weight I gained, the more stressed I got, which led to more binge eating and more weight gain - an ugly and vicious cycle." - Brian, Accountant from Iowa
"I'm not going anywhere so I don't care if my clothes get tight ! Nothing else to do but eat ! Sugar makes me happy!" - Patti, RN from New Jersey
"One of the reasons I was triggered to overeat during the pandemic was because of the shortages.  During the early phases, stores had many bare shelves and there were rations on the foods I was using to help control my overeating.  If I feel like I won't be able to get more food it tends to trigger me to overeat while I still have food." - Marti, Bookkeeper from Massachusetts
"My overeating started with being quarantined. It was a lonely time with nonessential businesses closed, and visiting with others was not allowed. The schools closed for two weeks and eventually the remaining school year. I have always cooked for my family but I started cooking too much food and then started all kinds of sweets. Problem is that I was the only one overeating and bingeing." - Jill, Retired library director from Ohio
"I work at a grocery store so it was very stressful keeping up with all the changes due to covid and all the fearful customers. Then I ended up getting covid in November and lost my taste and smell which affected my hunger signals" - Deb, Grocery store staffer, California
"Being at home 24 hours a day with husband and kids created a constant draw to the kitchen for them and me. Trying to keep them content I found myself cooking more foods that were difficult to resist. The stress of the pandemic also led to a "need for comfort eating." It has been very challenging as my health habits were much stronger before Covid." - Lisa, Church worker, Illinois
"I could no longer go to my gym, I started working from home full-time, and I felt very isolated and stressed out, about getting sick or getting someone else sick, not being able to go to my gym and work out around others, not knowing when or how long I'd need to work at home vs in the office. My increases in stress, downtime, and time at home, and less structure, all I feel, contributed to my increases in overeating and emotional eating." - Jessica, Banking Internal auditor, Alaska
"Moving from working at the office to working from home unfortunately, gave me unlimited access to the pantry!  I used to pack my lunch so I had just a limited amount of food available.  At home I have a never ending supply so it's more difficult to create those!" - Charlotte, Program Manager in IT, Texas
"Fear about the pandemic heightened my anxiety. My husbands place of employment closed temporarily. I was redeployed to a hospital setting where I hadn't worked as a floor nurse for 11 years. This ended in my deciding to leave my secure job and adding financial strain to our family. The added stress led me to eating more." - Amy, Nurse, PA
For more details on dealing with overeating, a free guide from Dr. Glenn Livingston can be found here.
Copyright © 2021, Never Ever Again Inc. All Rights Reserved.
---