You may have seen Dr. Livingston's previous work, companies, and research in:




From Internationally Renowned Psychologist and Author Glenn Livingston, Ph.D.
How to Extinguish Your Cravings Fast... and Minimize Their Ability to "Make" You Overeat So They Can't Do As Much Damage!
Register for This Free Web Class
(All Times Eastern)



Glenn Livingston, Ph.D.
Author, "Never Binge Again"
This 100% FREE, no-credit-card required webinar is your content-rich, essential first lesson from the full Never Binge Again Online Intensive Support Program Itself...designed to help you dramatically (or completely) reduce binge eating, overeating, cravings, urges, and food obsession. You'll see how to achieve minimum friction weight loss by eliminating the ability of these internal forces (cravings, urges, and food obsession) to create constant binges and set-backs.
Our typical client for the full program achieves a 90% reduction in binges during the very first month! We tracked binge frequency via daily email reports and a before-and-after assessment for the first 30 days of our radically revamped coaching program. Among those who checked in at least every two days and did the tasks in the written Mastery Challenge (representing a majority of clients), an average 90% reduction in binge frequency was observed.
"I haven't binged at all! I have had cravings, and I have tools to deal with those cravings, but I haven't binged at all!" - Matthew
More observation and data is warranted before results are considered statistically stable, and this is obviously not a double-blind controlled scientific study... but a 90% reduction in binge frequency for the majority of students reporting is still pretty remarkable, don't you think?
Register Me for This Free Web Class
The idea here is to make the journey pleasurable for you by putting a quick end to the enormous setbacks caused by intense cravings and overeating episodes. Imagine how much easier weight loss would be if you weren't constantly dogged by cravings... and could just STOP breaking your plans? Consider Yvonne, who begun her journey, smack in the middle of the Pandemic:
(DISCLOSURE: The following section contains pictures and stories of dramatic weight loss and life transformation. It would be unreasonable to assume just taking our program would cause you to lose any specific amount of weight, however, because weight loss is not the goal of our program! Rather, we aim to give you back control over your eating, stop the binges, and reduce cravings, urges, and food obsession. Losing inches is just a side effect. Nevertheless, these are REAL stories from REAL people. The typical client who engages with their coach at least every other day (the majority of clients do) experiences an average 90% reduction in binge frequency, cuts their food obsession by approximately half, and loses at least some weight. See the full legal disclosure and testimonial results statement for more details.)

Register Me for This Free Web Class
Or Scott, who dropped 84 pounds...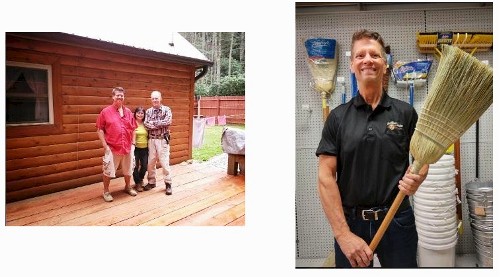 Register Me for This Free Web Class
Or Sue, who sent this quote to me in an email dated December 13th "Never Binge again has changed my entire life. I struggled since I was 16..now 38 and FINALLY found the answer.":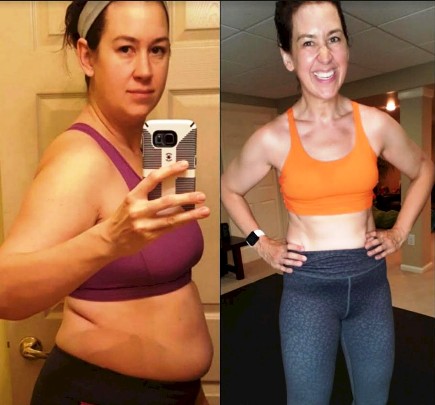 Register Me for This Free Web Class
Or Russell, who sent me these pictures on the approximate day he reached his 100th pound of weight loss, going from 300 to 200 in about eighteen months. (These are the kinds of stories which make me leap out of bed in the morning and get to work!)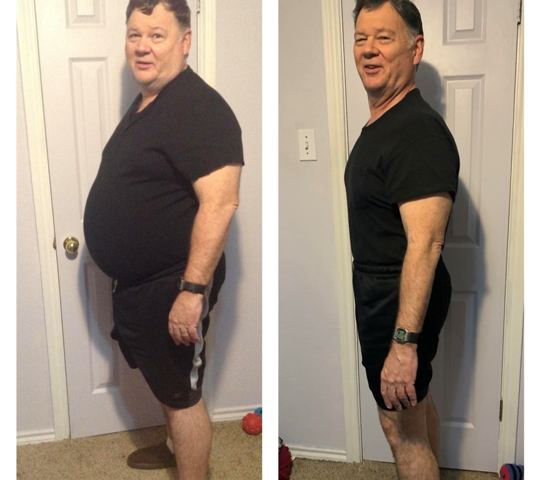 Register Me for This Free Web Class
And consider the testimonials below obtained from people who went through the program years ago, even before we'd figured out how to extinguish cravings so powerfully...
"I have managed to lose 74 pounds and have not binged one single time"

Racquel Charrois - 7 months after taking program)

"My life has totally changed. My weight dropped 17 pounds and it's very clear what my body needs and wants. As long as I stick with my plan I keep losing 3 or 4 pounds per month [...] Many of my doctor friends are in trouble with obesity [...] I think doctors need help and would be interested in Never Binge Again not only for themselves but their patients!"

(Dr. Margaret Fletcher, first female surgeon on faculty at Johns Hopkins)

DISCLOSURE: It would be unreasonable to assume you'll get the same results as many of the clients on this page, who may be considered outliers, because of their unique situations, metabolisms, and backgrounds. Then again, it can and does happen! And with the new pricing options, wouldn't you be risking more by not joining me? Hear me out please before you make up your mind, because it could very literally change your life! Our typical client achieves an approximately 90% reduction in binge frequency and loses at least some weight during the first month of the program as reported above.
Now, we used to sell this program by presenting everything about it in an approximately 48 page letter right here on this very site... but we've recently discovered it works better to let you experience the actual first lesson for FREE instead. Then we'll just explain the rest of the program at the end of the actual lesson and let you decide for yourself. That's why...
I Won't Accept ANY
Money From You Today!
Instead, It All Starts with a FREE, No-Obligation, No-Credit-Card-Required First Lesson Delivered LIVE via Zoom No Matter Where in the World You May Live!
This 100% FREE, No-Credit-Card Required Webinar is Your Content-Rich, Essential First Lesson from the Program Itself...Designed to Help You Extinguish Your Cravings FAST and Sever Their Link to Overeating Behavior!
Here's just some of what you'll learn in this free event:
Thoroughly understand the nature and mechanisms of overeating and binge eating so you can more easily break the habit! (And that's all binging is, by the way, a very, very nasty habit)...

The FIVE brain events which lead to a binging habit... and why you MUST attend to all of them to fully recover...

How to eradicate shame and guilt so they don't drain you of the energy and focus you'll need to get permanently free from overeating and food obsession...

Why the very same mechanism which created your overeating and/or binging habits can be used to extinguish them...

Internal vs. external "triggers" which contribute to overeating episodes...
Register Me for This Free Web Class
The neurochemistry of cravings - and why it's critical to know if you want to stop overeating...

Exactly how binging habits are formed... and extinguished!

The two types of binge motivations, and how to determine which is most influential in your particular problem! (Ignore this and all your efforts could be for naught)...

How to reframe the thoughts which occur before, during, and after a binge to maximize the chance you can overcome this vicious habit, and minimize the damage when it occurs...

Information about habit breaking which could cost Starbucks $22 Billion (yes, that's Billion with a "B") in profit!
Register Me for This Free Web Class
Dozens of secrets the Big Food and Big Advertising industries don't want you to know!...

How most people accidentally create new binging habits without realizing it... and how to avoid this at all costs!

Why a particular food you've been programmed to associate with Tuesdays might be seriously interfering with the elimination of your overeating habits...

The "Honey Bee" insight which will change how you think about recovery forever!

The only way to truly restore your normal dopamine functioning after an overeating episode...
Register Me for This Free Web Class
Scientific insights on the extinction curve from behavioral binge-cessation research: Addictive habits don't decay in a straight line, there's a very specific roller coaster you must surf to get rid of them, and if you don't know what this curve looks like you'll be infinitely more likely to abandon your efforts just when they're really working!

The mechanisms of extinction - how to kill your cravings for good!

How to be the master of your own destiny with food indefinitely...

Avoiding the "false positive" honeymoon which stymies 95% of binge eaters during their recovery and results in an endless cycle of yo-yo dieting and overeating!

Three powerful, practical cravings extinction tools you can put to work immediately

The $10,000,000 value prize everyone can win with a simple reframe in the way they think about overcoming overeating for good...
Remember, all of the above will be revealed in this 100% FREE, no-credit-card-required introductory first lesson of our Never Binge Again Online Intensive itself! Of course, at the end of the event we will also tell you all about the full program and give you the opportunity to upgrade, but we'll hold nothing back from teaching you everything above first!
Register for This Free Web Class
(All Times Eastern)



Glenn Livingston, Ph.D.
Author, "Never Binge Again"
Disclaimer and Terms of Use Agreement Privacy Policy Full Disclosure Statement
© Never Ever Again, Inc. and Psy Tech, Inc.
All Rights Reserved